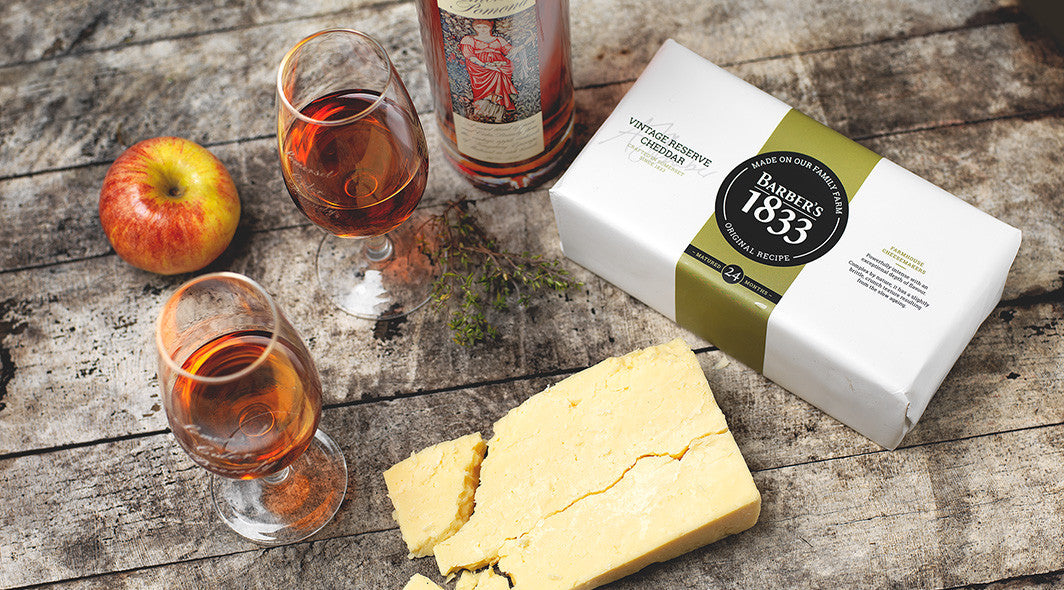 As the cider apple harvest begins again with earnest on the farm we wanted to bring you an updated version of this article. If cheddar is the food most associated with the West Country, then cider is its drink, and at Maryland Farm, we've spent centuries enjoying Barber's 1833 with only the finest ciders. Apple trees and grass both thrive in warm, wet regions so it's no wonder that our corner of the country has been making the best cider and cheddar for hundreds of years!

Traditionally, cheese is paired with wine. However, cider has many characteristics in common with wine, making it just as good a match. In particular, cider and 1833 both share earthy and rounded flavours and, whilst sweet ciders contrast well with our tangy cheddar, drier varieties can cut through its richness. It's an evocative match that speaks of heritage and terroir.

It's hard to go wrong with cheddar and cider, but here are two combinations we're enjoying in particular:

Harry's Dabinett is a single variety apple that is fermented and then back sweetened with juice. Big fruity aroma and flavours very silky on the palate with a soft tannic finish.

Medium
Lightly Sparkling
ABV 4.5%

 

Pilton Cider's Ice Cider

Autumn-pressed bittersweet cider apple juice is first keeved and then frozen. In early January it is carefully thawed to extract a rich juice leaving the water still frozen. This concentracted juice is then slowly fermented and matured for nine months.





 Clean tasting, this cider is great with dessert.

10% abv - very sweet - 50% fermented

Somerset Cider Brandy

We couldn't not include The Somerset Cider Brandy Pomona not strictly cider but a fine cider based digestif.

With its Full-bodied, and robust apple taste with a  smooth butterscotch finish. It makes an exceptional digestif and is an ideal accompaniment to 1833.

 

Enjoying our 1833 with a tipple of cider or perhaps even a modern craft ale? Tweet us at @barbers1833 and let us know your winning combinations.