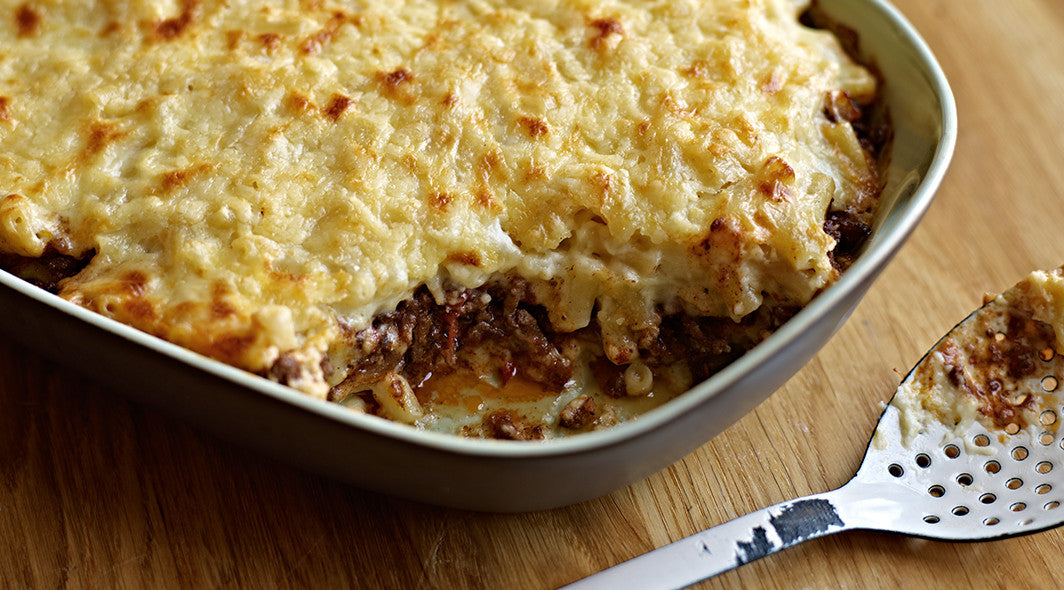 Time

2 Hours

Serves 

6

Difficulty 

Medium
Ingredients
For the meat sauce:
2 tbsp olive oil
1 onion, finely chopped
2 garlic cloves, finely chopped
500 g / 1 lb 2 oz minced steak
1 tsp ground cinnamon
200  ml / 7 fl oz red wine
400 g / 14 oz can chopped tomatoes
2 tsp chopped fresh mint
Salt and freshly ground black pepper
For the macaroni:
250 g / 9 oz macaroni
55 g / 2 oz butter
55 g / 2 oz plain flour
600  ml / 1 pt milk
175 g / 6 oz Barber's 1833 Vintage Reserve Cheddar, grated
½ tsp freshly grated nutmeg
1 egg, beaten
Method
For the meat sauce, heat the oil in a medium-sized pan, add the onion and garlic and cook gently for 10 minutes or until the onion is soft but not browned. Add the mince and stir until browned.
Stir in the cinnamon, then add the red wine and allow it to bubble for a minute. Add the tomatoes and mint and season with salt and pepper. Simmer very gently for 40 minutes until thickened, but still moist.
Meanwhile, cook the macaroni as directed on the pack, taking care not to overcook it. Drain and rinse with cold water.
Heat the oven to 180C/Gas 4. In a saucepan, melt the butter, stir in the flour and cook for 1 minute. Gradually stir in the milk and cook for 5 minutes. Add half the cheese and the nutmeg and season with salt and pepper. Mix the macaroni into the cheese sauce then stir in the egg.
Spread half the macaroni over the base of a 2L ovenproof dish. Cover with the meat sauce then the remaining macaroni. Sprinkle the remaining cheese on top. Bake for 40 minutes until bubbling hot and golden brown.
Video tutorial