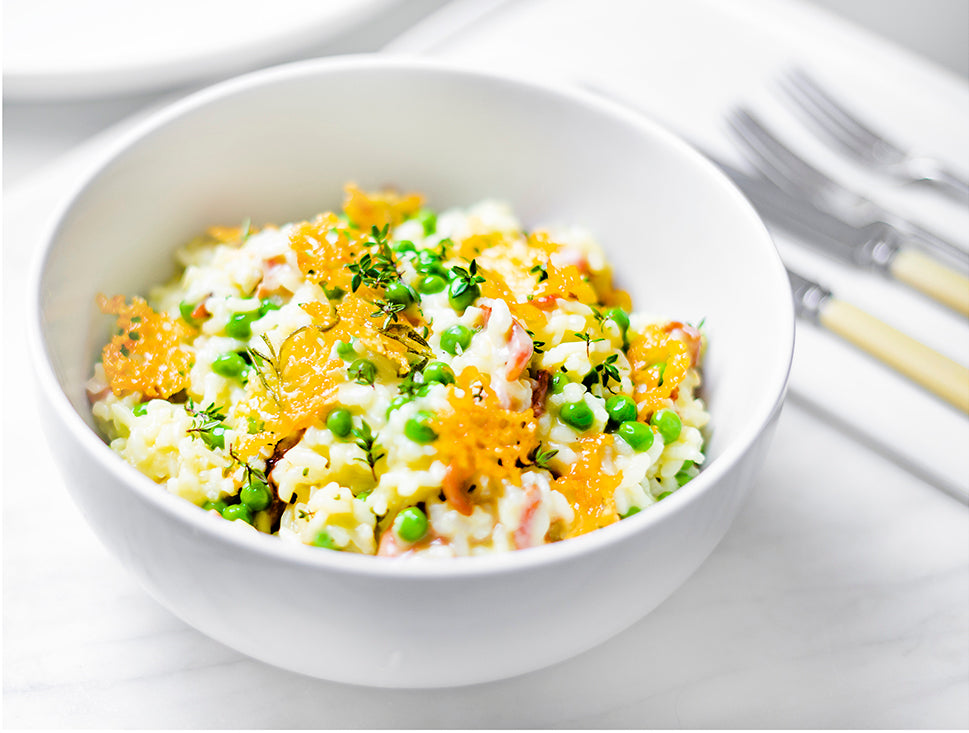 Time 0.5 hours

minutes

Serves 4
Moderate
Ingredients
125g of Barber's Cheddar
2 x Small onions / Shallots
100ml dry white wine
250g risotto rice
125g butter
250g Smoked Bacon chunks
350/400ml vegetable stock
Method
Heat butter frying pan and add the onion.
Fry for 5 minutes until translucent.
Add the risotto rice and stir well, ensuring every grain is coated in butter.
Grill bacon chunks under the grill until browned and crispy
Pour in the wine and let it bubble until it's almost all evaporated. Add the stock a ladleful at a time, stirring constantly, adding more stock only once the last ladleful has been absorbed.
Bring a small pan of salted water to the boil and blanch the garden peas, remove and drain
Once the rice is cooked, stir through grated Barber's Cheddar.
Stir in the bacon chunks
Stir in drained peas
Place a tray lined with baking parchment and sprinkled with the remaining grated cheddar under a hot grill. Grill until the cheddar is bubbling and brown. Remove from the grill and allow to cool for 4 to 5 minutes – it will crisp up
Break chunks of the cheddar crisp up and place on risotto as garnish.