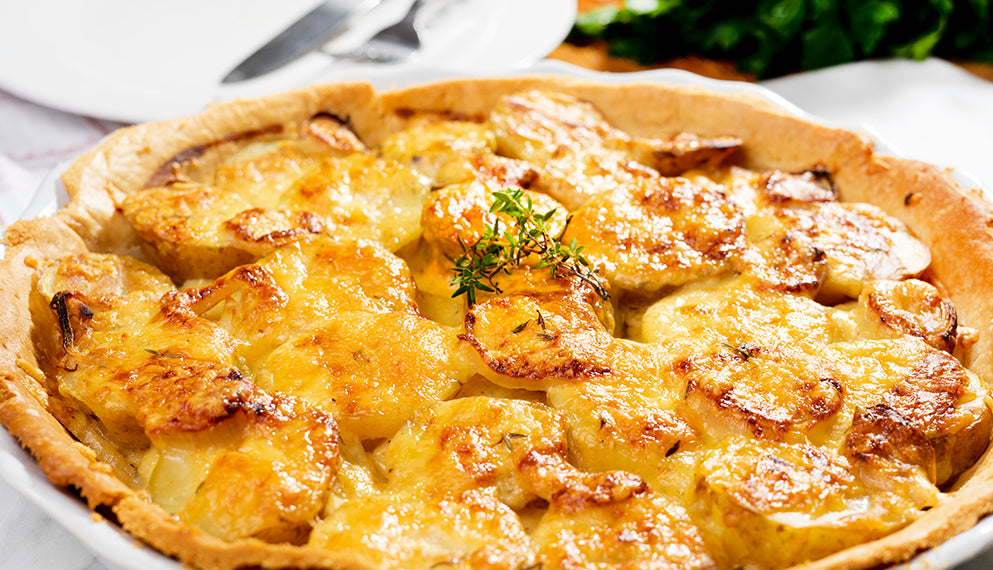 Time 1 hour

minutes

Serves 4
Moderate
Ingredients
Thanks to Jim Thompson @Jim_eats_pies for the recipe

For the Pastry

400g plain flour
350g frozen butter (put in the freezer at least two hours before)
1/2 teaspoon salt
2 teaspoons English mustard
Around 100ml cold water

For the Filling

3 potatoes, about 500g, cut into slice 1/2 cm thick
150g Barber 1833 cheddar
1 small onion, about 75g, finely chopped
1 desert spoon English mustard
4 sprigs of thyme, leaves removed and stalks discarded
Fills a 22cm pie dish
Method
Preheat the oven to 200 degrees/180 degrees fan
To make the pastry sift the flour into a large bowl. Add the salt. Grate about a third of the butter, then softly mix, grate another third and mix, grate the final third and mix. The butter should not clump. Do this quickly so your hands do not melt the butter. Mix the mustard into the water and slowly add, making sure it does not become too wet. Use more water or flour if you need. The dough should hold together but not be sticky. Mix together with your hands and turn out onto a floured board. Shape into a ball, wrap with cling film and put in the fridge.
To make the filing par-boil the potato slices in boiling water for 5 minutes. You should be able to put a fork into the slices, but they should still be hard. Make sure you do not overcook and they start to break apart. Grate the cheese into a bowl. Finley chop the onion. Mix together the chopped onion, grated cheese, thyme leaves, mustard and lots of black pepper.
Take out the chilled pastry and roll on a floured work surface. Roll out until about the same thickness of a pound coin and large enough to go in your pie dish. Use a floured rolling pin and roll the pastry around the pin, transferring it into the tin. Tuck it in.
Now layer up the pie filing. First place one layer of potatoes, carefully making sure they fill the pie and do not overlap too much. Add a layer of the onion and cheese mix. Add another layer of potatoes and onion and cheese mix. Finally, for the top layer of potatoes place them in a circle or spiral shape so they slightly overlap and look pretty. Add a final sprinkling of the onion and cheese mix. Add another few grinds of pepper and place in an oven for around 35 mins, or until the pastry is cooked and crisp.
Once cooked, leave to cool on a cooling rack. Once cooled, use a pallet knife to remove from the dish. Serve with a crisp leaf salad and pickled beetroot.